Personalised 3D Printed Phits Insoles
Using Sports Science Technology. For Ultimate Comfort & Durability.
At Shoe Artistry, we combine craft, heritage with technology.
While traditional shoemaking is a timeless craft we hope to revive and preserve, we keep up with the times, by integrating technology to create shoes that help you walk better. We partner with Phits, world's first high-tech 3D printed insoles, designed based on your personal dynamic gait analysis to ensure the best possible support for your foot condition.
A pair of Phits insoles is 50% lighter than your average insoles. They last considerably longer and offer made-to-measure solutions to problems such as overpronation or supination, calcaneal spur, plantar fasciitis etc. An awkward foot motion can also potentially build up to health problems. Consider having a footscan®-analysis performed by our inhouse Phits- expert to tell you more.
PROMO NOW! 22% Off customised 3D printed Phits insole (worth HKD$2388 SGD$415.44 W/GST) when getting a pair of bespoke or Mens / Ladies made-to-order leather shoes. Handcrafted by our traditional Hong Kong shoemaker.
Promo from 10.03.2023 to 09.04.2023.
Phits are insoles for everyday use. You can always repurpose them in your other pairs of dress shoes or sneakers.
20% lesser than getting a pair of the same done independently. Phits are insoles for everyday use. You can always repurpose them in your other pairs of dress shoes or sneakers.
Customizing Your Phits 3D Insole – A Three-Step Process
1. Footscan®
Get your feet scanned using a piece of technology that utilizes 4096 sensors with speeds of up to 500Hz to measure plantar pressure. See how it works.
2. Analysis & Design
The software then carries out static and dynamic analyses, showing 3D visualizations, generating force graphs, and determining optimal strength combination for your personalized insole printing.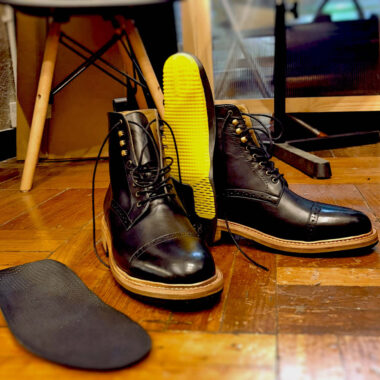 3. 3D Printing
A pair of insoles are then made for you using Selective Laser Sintering, of which during this process, a type of fine powder (PA or Nylon) is hardened and bonded together layer by layer. The result is an ultralight and strong piece of insole, made-to-measure for the end-user. Watch Phits insole production process.
Handmade to perfection.
Designed to your taste.
Custom create your shoe-last.