Designed to Your Taste
Pick, Mix & Choose from Our Curated Collection
You're probably here because you're searching for a well-fitted pair of shoes, and have some ideas on how you want them to look, however, you are not ready to commit to a pair of tailored bespoke shoes yet.
Well, you can still let your personality shine through by picking, mixing, and choosing from our collection of made-to-order shoes, of 16 styles, 8 leather and colour selections, and 5 sole construct options. Shoe Artistry's made-to-order shoes come with a signature 3X hand-stitched counter back feature and 3X nail on the outer heels. Forefront sole grip and extra insole padding are added for extra comfort.
So, let's say you are thinking of ordering a pair of single buckle monk in an exquisite mix of suede leather black and Veg Tan Patina burgundy, a half size larger on the right, and hand-stitched leather outsole with Goodyear welts? We can surely do that within our made-to-order collection. In fact, as an advocate of custom shoes, we allow for some fine design adjustments outside of our collection. Find out how far you can go.
Prices start at HKD3488 / SGD699.84 W/GST W/GST for Men (MTO). Purchase together with our customised 3D printed Phits Insole. Insole only cost HKD$1800 / SGD354.04 W/GST (HKD$2388 SGD$415.44 W/GST)
Men's made-to-order-shoes will require 3-4 weeks to be fully made.
PROMO NOW! 22% Off customised 3D printed Phits insole (worth HKD$2388 SGD$415.44 W/GST) when getting a pair of bespoke or Men / Ladies made-to-order-leather-shoes Handcrafted by our traditional Hong Kong shoemaker.
Promo from 10.03.2023 to 09.04.2023.
1.Book a Foot Consultation at our Store
We have a strong heritage backed by experienced Hong Kong craftsmen of over 40 years of shoemaking experience, and consultants of design background, having served and conceptualized over 1,000 pairs of bespoke shoes for clients worldwide since 2012. It's the same team working on your footwear regardless of your choice between made-to-order or bespoke shoes. All customers get our undivided attention; hence we request that you book an exclusive appointment with us. If you are currently not residing in Hong Kong or Singapore, we do virtual consultations as well. Contact us.
2. Getting the Right Size
We offer measurements in half sizes and you can have the option of varying sizes for each foot. We use one standard last for our made-to-order shoes, and they are of an all-purpose toe shape and bevel waist for a comfy fit. This highlights the first significant difference of made-to-order shoes from bespoke shoes, noting that this option will only be ideal for individuals who do not have problematic feet and can generally fit into ready-to-wear sizes.
Our made-to-order shoes come with high-density insoles made for comfort. To help you walk better, you can opt for an orthopedic foot scan, powered by Phits, a sport-science technology, to customize a pair of 3D printed insoles, one that you can repurpose and use in your other pairs of dress shoes or sneakers.
3. We Have 16 Shoe Styles Covered
4. Select from 8 Leather Material & Colour Options
We use Vegetable-Tanned Nappa Leather for all our made-to-order shoes, and at your request, we can offer other premium veg-tanned leather options from exclusive tanneries in Italy.
Veg-tanned leather is environmentally friendly as the tanning process is organic. The tanning method is traditional and is executed by only skilled and experienced craftsmen. It is a superior and earthy material that can develop a rich patina. It ages beautifully and the material becomes more supple with every use. It has a long lifespan and does not crack or dry out.
5. Pick from 5 Sole Construct Selections
All made-to-order shoes are made of genuine leather with half rubber outer soles. They also come with Shoe Artistry's signature 3X nail on the outer heels.
We use hand-stitched blake construction, and never cemented soles. With cemented soles, the glue will disintegrate and the sole will come off over time, and your shoes cannot be resoled.
We also offer full leather outsoles with GoodYear construction at a premium, with the choice of adding rubber protection to prevent wear and tear as well as for anti-slip purpose. A fashionable metal tip can also be included.
6. How Far Can Made-to-Order Customization Go?
If you are considering an option that is not in our colour palette but doesn't belong to the land of crazy-pants, such as classic navy-blue suede, sure – why not? There is, however, a tiny surcharge for such requests.
The above images depict another perfect example of how far special requests in the made-to-order department can go. A little funky bow-tie addition to our timeless Loafer Lennon.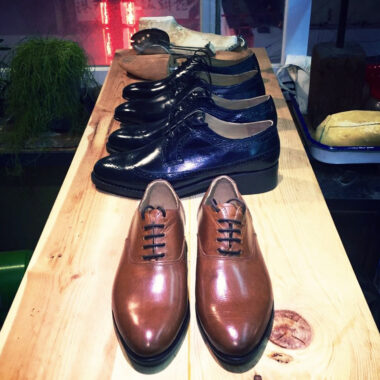 7. Pick-Up or Delivery
Made-to-order shoes are ready for your pick-up within 3 weeks. We can also deliver them to you. Each made-to-order pair comes with a shoe box, dust bag and shoe horn.
Join us in the made-to-order journey. Browse our curated collection. If an improved fit is what you're looking for, we suggest investing in a pair of bespoke shoes. Book an appointment with us today.