Timeless Classics Every Woman Should Own
Designed & Custom-Made to Suit Your Every Need & Desire
Shoes are the cherry on top of every outfit—the most powerful accessory in every woman's wardrobe. They are your ultimate investment. Get the basics of style and comfort right, and you can wear them for a lifetime.
Prices start at HKD1288 / SGD267.84 W/GST for ladies. Purchase together with our customised 3D printed Phits Insole. Insole only cost HKD$1800 / SGD354.04 W/GST (HKD$2388 SGD$415.44 W/GST)
Ladies' made-to-order shoes will require 3-4 weeks to be fully made.
PROMO NOW! 22% Off customised 3D printed Phits insole (worth HKD$2388 SGD$415.44 W/GST) when getting a pair of bespoke or Mens / Ladies made-to-order leather shoes. Handcrafted by our traditional Hong Kong shoemaker.
Promo from 10.03.2023 to 09.04.2023.
1.

Essential Styles
Skipping out the fast fashion and trendy statement pairs in your closet, have you got the timeless options that are versatile for your everyday wear? A great pair of black or nude pumps go well with any outfit. Go for classic shapes and cuts, and don't get carried away by the latest trendy versions that will be outdated by next season. 
All you need are these 6 essential classics, along with your white sneakers and leather sandals (that you can learn to make your own), and you'll never have to run out to do last-minute shopping. That's not all. The right shoes should be of the perfect fit, and you know you'll be just as excited to put them on every single time.
2. Comfort
Style is everything, but comfort is key. Ill-fitting shoes can affect the health of your feet. Shopping for perfect fit shoes is not an easy feat, especially for those with broad feet and odd shoe sizes. If you've had enough of limping around and arming yourself with band-aids for your painful blisters, consider getting your shoes custom-made. Made-to-order pieces come at more affordable prices compared to bespoke ones. Here's what makes all the difference between a custom pair and a ready-to-wear piece: Sizing, Material, Construct.
Sizing: With just a little more effort in getting that half size in or slight adjustments to the length and width of your footwear, Shoe Artistry can give your feet the comfort and beautiful kicks they deserve. We offer measurements between sizes 34 to 41. Additional charges apply for other shoe sizes. 
Material: We use premium lambskin for our ladies custom footwear—both leather and suede. As opposed to cowhide, lambskin is lightweight, has a buttery, ultra-soft, and delicate texture and a stretchable, draping quality that moulds to your feet, suiting especially those with wider feet and even bunions. The luxurious lambskin is the obvious material choice for work shoes and everyday wear because it is comfortable and durable, and it ages well. At Shoe Artistry, with sustainability being a big part of our heritage and values, we want to make your shoes that last in this fast-fashion world. 
Construct: This gets a little technical, but if you are invested in a pair of good shoes, we thought you might like to know.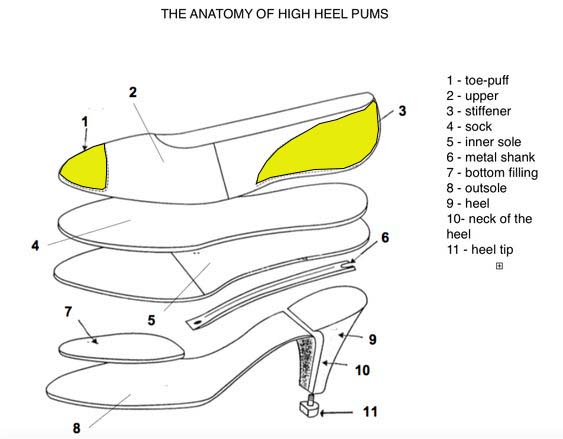 The toe puff and heel counter are two crucial parts of the shoe anatomy that give it structure. When made too rigid, they can cause blisters. As such, we have specially made these parts thinner in our ladies shoes to ensure comfort and help you bid farewell to painful feet.
The heels in our collection are fixed at 2.5 inches, an ideal height offering you just the right amount of support for your back and legs. Anything higher is not recommended as it can lead to achiness and pain by the end of your walking day.
Durable rubber soles that are anti-slip are a standard across our entire collection. So, you can feel more secure walking in them.
3. Design & Extras
Shoe Artistry offers you a curated collection of flats, heels, and boots. Pick, mix, and choose your preferred design, then leave it in the good hands of our experienced shoe craftsmen who will have them handmade to your precise specifications. 
Colours: Neutral colours mean they will go with more outfits, and you can wear them as often as necessary. For nude shoes, women often forget that there are many shades of nude. So, make sure to pick a shade that compliments your skin tone. If you are looking for a statement pair to match your vibrant personality, you can choose from our palette of colour assortments. 
Frills: Feel free to deviate from the classics and add a buckle, button, gem, or beads—any frills you can imagine. We'll be sure to let you know what in this world is possible. Crazy ideas may mean additional sourcing and craftsmanship and some extra charges.
Extra charges also apply to requests for other leather material, different heel designs or heel height (because we know there's no stopping a lady who loves her heels), leather soles (instead of rubber), and personalised insoles. 
If you like how this all sounds, book an exclusive appointment with us at our store. If you are currently not residing in Hong Kong or Singapore, we do virtual consultations as well. Contact us.