An Evolution Towards Individuality
Quality Construction. Perfect Fit. Bespoke Designs.
Bespoke shoes are crafted from scratch, designed specifically for the customer himself and no one else. It is tailored to his discerning taste and fit. In today's industrialization age, while crafting bespoke shoes is a rare trade, it is an even more complicated arena to shop. As such, let us help you understand the process of ordering a pair with Shoe Artistry.
Prices start at HKD9488 / SGD2030.40 W/GST for men. HKD3488 / SGD721.44 W/GST for ladies. Purchase together with our customised 3D printed Phits Insole. Insole only cost HKD$1800 / SGD354.04 W/GST (HKD$2388 SGD$415.44 W/GST)
Bespoke shoes will require 6-8 weeks to be fully made.
PROMO NOW! 22% Off customised 3D printed Phits insole (worth HKD$2388 SGD$415.44 W/GST) when getting a pair of bespoke or Men / Ladies made-to-order leather shoes. Handcrafted by our traditional Hong Kong shoemaker.
Promo from 10.03.2023 to 09.04.2023.
1. Book a Foot Consultation at our Store
It takes a custom shoemaker to get to know you, understand your style, and discuss in-depth what kind of shoes to make. Learn about our heritage to know that we are backed by experienced Hong Kong craftsmen of over 40 years of shoemaking experience, and consultants of design background, having served and conceptualized over 1,000 pairs of bespoke shoes for clients worldwide since 2012.
An appointment at our workshop guarantees you our undivided attention. So please don't be in a hurry, we hope to have some good conversations with you. If you are currently not residing in Hong Kong or Singapore, we do virtual consultations as well. Contact us.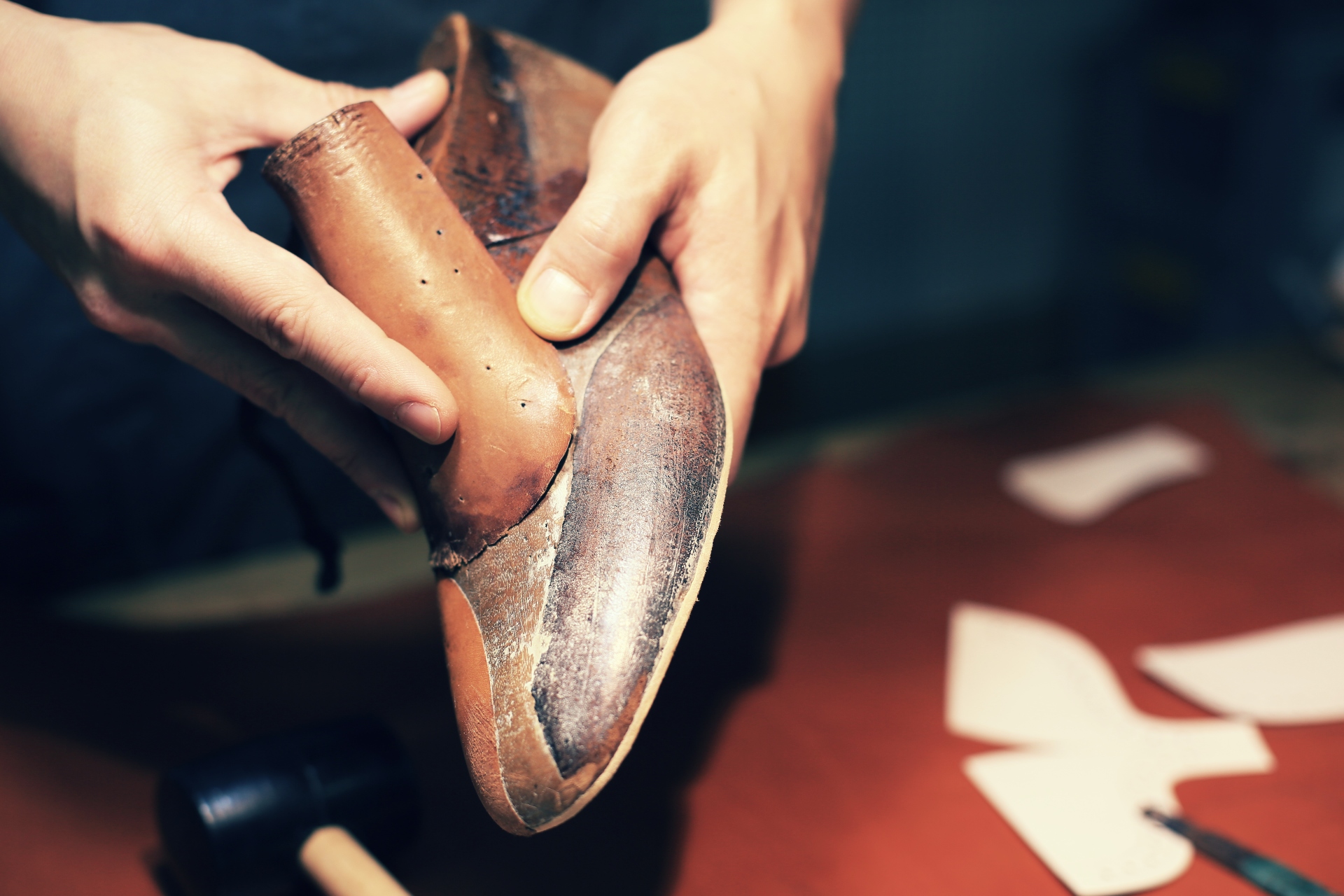 2. We Take Your Measurements
Here's how we get started.
To ensure that your bespoke shoes fit like a glove, we use a combination of hand measurements and 3D Scanning technologies to capture the precise shape of your feet for the custom-creation of your exclusive shoe-last – a great solution, especially for problematic feet. The shoe last is the starting point of every shoe design, defining the size, silhouette, and outline of the shoes. We keep your very own shoe-last information in our archives, and you save up to HKD2000 SGD300+ and 2 weeks of production time on your future pairs with us.
To help you walk better, you can opt for an orthopedic foot scan, powered by Phits, a sport-science technology, to customize a pair of 3D printed insoles, one that you can repurpose and use in your other pairs of dress shoes or sneakers.
3. Let's Explore your Style
We get the basics right
We offer a range of premium Italian vegetable tanned leathers to high-quality UK vegan leathers and recommend genuine full leather outsole with cork filler and leather shank. For a light and flexible construct, we employ blake-stitched welt with a prefabricated midsole. For a firmer and more adaptable piece at your request, we use traditional hand stitch welt with Goodyear construction. If you wear dress shoes five days a week, you'll want most of your shoes to be Goodyear welts.
And now for the quirks and frills
At Shoe Artistry, we seek to bring to life any construct you request for, any style you fancy, and any design you envision. Your bespoke shoes can come in any material, colour, and finishing you desire. Each added layer of customization is priced separately.
Elevator shoes that give extra height and improve confidence and posture are popular requests. We have had customers requesting for exotic leathers such as snakeskin, crocodile, stingray and shark, paired with unconventional ink, prints and other materials like satin, felt, and denim.
Finishing touches vary from mirror gloss, matt to hand-patina finish. You can also add buttons, laces, and jewellery or have us re-attach a nostalgic piece of ornament or buckle from your old pair of shoes. We welcome special requests, as your ideas keep us intrigued and creative in our work!
Shall we get started with some inspirations for you from our customer showcase?
4. Fitting
In the third week from your first consultation, we prep a pair of mock-up shoes and invite you back for fitting. We take your feedback and amends are made accordingly.
5. Pick-Up or Delivery
Depending on the complexity of your requirements, shoes are ready in another 3 weeks after the fitting appointment. The overall turnaround for bespoke shoes with Shoe Artistry is an average of 6-8 weeks. Each bespoke pair comes with a shoe box, dust bag and shoe horn. We can deliver the shoes to you, or you can pick them up from our store. It shall be our greatest pleasure to watch you stroll out in perfect stride with your good-looking solemates.
We hope this has gotten you excited to start on your bespoke journey. Book an appointment with us today.
Alternatively, you can explore our Made-To-Order shoes, where you can customize your very own from our curated collection of Oxfords, Derbies, Loafers and Monks.
Get inspired by some of our most creative customers with distinct tastes. Find out what's possible in the world of bespoke shoes.
Cool leather boots, heels, comfortable slip-ons, and ballerina pumps for the Miss, Missus, and Madam.